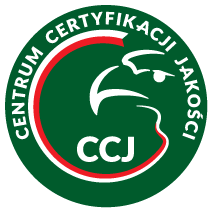 The company's activities
Sector of activity : land segment, naval segment, air segment, electronics, Other segments
Sector EDF : Air combat, Ground combat, Naval combat, Simulation and training
Types of products/services offered : trainings
Exemplary products/services : Certification of management systems Product certification Delivery of training courses

Company description
Quality Certification Center (or, in Polish: Centrum Certyfikacji Jakości – abbreviated as CCJ), being an organizational unit of the Military Academy of Technology, certifies suppliers' quality management systems for compliance with the requirements of the allied AQAP standardization publications, viz: AQAP 2110, AQAP 2310 and AQAP 2210, AQAP 2105. Within the framework of the Ministry of National Defense, we cooperate with the institutions ordering and supervising the implementation of defense products.
QCC is a certification body authorized to certify compliance and control of the functioning of the internal control system (ICS) with the requirements set forth in Article 11, paragraph 2 of the Act of November 29, 2000 on Foreign Trade in Goods, Technologies and Services of Strategic Significance to State Security, and to Maintain International Peace and Security
The  is a certification body accredited by the Polish Center for Accreditation.
Under accreditation No. AC 057, we offer certification of:
Quality management system – PN-EN ISO 9001 (QMS),
Environmental management system – PN-EN ISO 14001 (EMS),
Occupational health and safety management system – PN-N 18001 (OHS) / BS OHSAS 18001 (OHSAS) / PN-ISO 45001:2018-06 (HSMS),
Food safety management system – PN-EN ISO 22000 (FSMS),
Information security management system – PN-EN ISO/IEC 27001 (ISMS).
Accreditation No. PL-V-0002 authorizes QQC to conduct EMAS verification processes in accordance with Regulation 1221/2009 of the EU Parliament and Council of November 25, 2009, as amended.
Under accreditation No. AC 203, authorization of the Minister of Entrepreneurship and Technology and notification of the European Commission, we offer certification of pyrotechnic products.